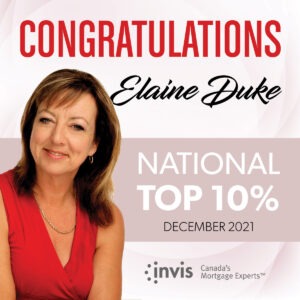 Elaine Duke – Lead Broker
Through my partnership with Invis, I can offer Mortgage solutions for both Residential and Commercial Financing Needs, usually at rates far below the usual Banks, Credit Unions. I work for you, my client, and have no specific affiliation with anyone lender which provides you with an impartial and independent representative for your lending needs. I have access to approximately 60 different lenders including the Major Banks but at rates usually below what is available through local lenders. . Many of the mortgage options that are available to you through Invis are also more flexible and better suited to your personal needs.
I have over 30 years of experience in the financial services industry, including Management, and Regional Office Management positions. I have extensive experience in residential and commercial mortgages, and during my employment, with major Chartered Banks, I worked closely with professionals and self-employed individuals. I am uniquely qualified to assist self-employed individuals on both personal and business financing needs with a strong understanding of financial statement analysis and in identifying solutions to match client needs.
I am also proudly the recipient for the past four years as being ranked as a top 20 broker across Canada.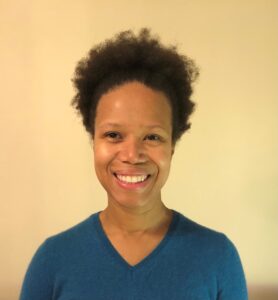 Avrillee Kenny – Mortgage Associate
I have always been committed to helping people, and I cannot think of a better way to be of service than to help people achieve their goal of homeownership.  I have over fifteen years of experience in finance, accounting, and law, which allows me to uniquely help people navigate the journey of finding the perfect mortgage that works best for them.  Whether you are looking for your first mortgage, refinancing, or reverse mortgage, I can assist you every step of the way. I have access to over 40 different lenders, which allows me to be impartial and make suggestions that are in the best interest of you, the client.  As a mortgage broker, I can save you time and money as I often can access rates that are lower than the rate posted by the banks and credit unions.  My services are almost always free to the borrower, except in some circumstances where a Type B-Lender may be involved. I am licensed in British Columbia and local to the Oceanside area on beautiful Vancouver Island. In my downtime, I enjoy gardening, cooking, yoga, and spending time with my daughter, husband, and fur baby.
Cindy Stevens-Mortgage Associate
Hello I'm Cynthia Stevens and I am extremely excited to be joining the Invis team. Through this partnership, I am able to offer mortgage solutions for both residential and commercial financing needs, usually at rates far below the usual banks and credit unions. As a mortgage professional with Invis, I have access to many different lenders including the major banks but at rates usually below what is available through the mainstream and banking staff. Many of the mortgage options that are available to you through Invis are also more flexible and better suited to your personal needs.
As someone who has used a mortgage broker herself, approximately 8
years ago, I know first hand how much a mortgage broker can help a
person even when the banks cannot. I had been declined at my bank
which I had been a member of since 1988 for a remortgage. My issue
was that I had been in police training and my credit rating had fallen as I
could not keep up with some payments during that time. The mortgage
broker listened to my story and had no issues getting me a mortgage.
Since then I have gone on to be the owner of two condos in the lower
mainland, as well as in the process of owning a vacation property in
Mexico. I feel the difference between mortgage brokers and banks is
that mortgage brokers have the time to listen to you, your needs and
actual story, which will be my promise to you.
With a background in law enforcement, I have an excellent work ethic
and I know how to listen and to problem solve. I have also seen people
of all walks of life and have learned we all have a story. Please allow me
to walk with you through your mortgage process and I promise I will do
my very best to get you a mortgage which not only suites your personal
needs but one in which you feel confident you could not have gotten
anywhere else.
I completed the Mortgage Brokerage in British Columbia course through
UBC and am a licensed sub mortgage broker.
Outside of work you can find me racing cars, hanging out with my
family, friends and of course my dog Savanna.
Thank you for your trust and confidence in my ability to find you the best
mortgage possible.