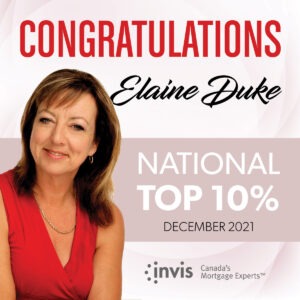 Elaine Duke – Lead Broker
Through my partnership with Invis, I can offer Mortgage solutions for both Residential and Commercial Financing Needs, usually at rates far below the usual Banks, Credit Unions. I work for you, my client, and have no specific affiliation with anyone lender which provides you with an impartial and independent representative for your lending needs. I have access to approximately 60 different lenders including the Major Banks but at rates usually below what is available through local lenders. . Many of the mortgage options that are available to you through Invis are also more flexible and better suited to your personal needs.
I have over 30 years of experience in the financial services industry, including Management, and Regional Office Management positions. I have extensive experience in residential and commercial mortgages, and during my employment, with major Chartered Banks, I worked closely with professionals and self-employed individuals. I am uniquely qualified to assist self-employed individuals on both personal and business financing needs with a strong understanding of financial statement analysis and in identifying solutions to match client needs.
I am also proudly the recipient for the past four years as being ranked as a top 20 broker across Canada.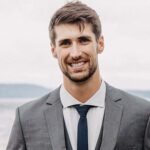 Alex Shanks – Mortgage Associate
My commitment is always to the client, I pride myself on providing ethical and honest advice to best benefit them. I aim to understand my client's full financial picture. This allows me to provide the best options to meet their short and long-term goals, maximize their savings and help maintain a balanced portfolio. Personally, I have bought, sold and built on properties and know how exciting and potentially taxing the experience can be. This is why I don't have classic "business hours", I help make mortgage shopping stress free for you and am available when you need me. I am loyal to my clients as a mortgage can be a lifetime commitment. I want to be the person you trust and think of when you or someone you know needs a mortgage. I work for you, not the banks, and provide unbiased guidance in your mortgage decision. Using a broker is nearly always at NO COST to the client so using one simply makes sense. I have the expertise to get the right mortgage for you. I have access to over 60 lenders, some offered exclusively through brokers, so you get options along with the convenience and great counsel that you deserve. I am local to the Comox Valley and have a good understanding of the many communities we serve across the Island. As a licensed Sub-Mortgage broker in BC, and through my affiliation with Invis Mortgages, I can secure mortgages all across Canada. In my down time I enjoy being outdoors, on the water, watching Sunday football and spending time with my wife and son. I'm here to get the best mortgage for you and your goals.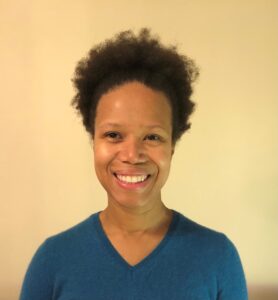 Avrillee Kenny – Mortgage Associate
I have always been committed to helping people, and I cannot think of a better way to be of service than to help people achieve their goal of homeownership.  I have over fifteen years of experience in finance, accounting, and law, which allows me to uniquely help people navigate the journey of finding the perfect mortgage that works best for them.  Whether you are looking for your first mortgage, refinancing, or reverse mortgage, I can assist you every step of the way. I have access to over 40 different lenders, which allows me to be impartial and make suggestions that are in the best interest of you, the client.  As a mortgage broker, I can save you time and money as I often can access rates that are lower than the rate posted by the banks and credit unions.  My services are almost always free to the borrower, except in some circumstances where a Type B-Lender may be involved. I am licensed in British Columbia and local to the Oceanside area on beautiful Vancouver Island. In my downtime, I enjoy gardening, cooking, yoga, and spending time with my daughter, husband, and fur baby.